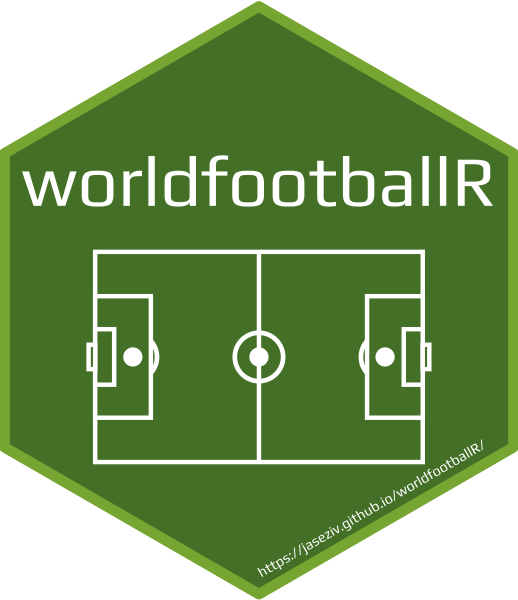 Extracting data from FBref for International Matches
Jason Zivkovic
2023-09-07
Source:
vignettes/fbref-data-internationals.Rmd
fbref-data-internationals.Rmd
Overview
This package is designed to allow users to extract various world football results and player statistics from the following popular football (soccer) data sites:
Installation
You can install the CRAN version of worldfootballR with:
You can install the released version of worldfootballR from GitHub with:



# install.packages("devtools")




devtools

::

install_github

(

"JaseZiv/worldfootballR"

)
---
Usage
Package vignettes have been built to help you get started with the package.
This vignette will cover the functions to extract data for international matches from FBref.com.
The functions in this document are all documented in the FBref data vignette, however the method for using these functions for international matches differs from those played in domestic leagues.
NOTE:
As of version 0.5.2, all FBref functions now come with a user-defined pause between page loads to address their new rate limiting. See this document for more information.
---
Important
To get the competition URLs needed for a lot of the functions in this document, refer to the column comp_url for the relevant league / competition you're interested in, in this stored data file.
---
Helper Function
Get match urls
To get the match URLs needed to pass in to some of the match-level functions below, fb_match_urls() can be used.



wc_2018_urls

 

<-

 fb_match_urls

(

country 

=

 

""

, gender 

=

 

"M"

, season_end_year 

=

 

2018

, tier 

=

 

""

, non_dom_league_url 

=

 

"https://fbref.com/en/comps/1/history/World-Cup-Seasons"

)





friendly_int_2021_urls

 

<-

 fb_match_urls

(

country 

=

 

""

, gender 

=

 

"M"

, season_end_year 

=

 

2021

, tier 

=

 

""

, non_dom_league_url 

=

 

"https://fbref.com/en/comps/218/history/Friendlies-M-Seasons"

)





euro_2021_urls

 

<-

 fb_match_urls

(

country 

=

 

""

, gender 

=

 

"M"

, season_end_year 

=

 

2021

, tier 

=

 

""

, non_dom_league_url 

=

 

"https://fbref.com/en/comps/676/history/European-Championship-Seasons"

)





copa_2019_urls

 

<-

 fb_match_urls

(

country 

=

 

""

, gender 

=

 

"M"

, season_end_year 

=

 

2019

, tier 

=

 

""

, non_dom_league_url 

=

 

"https://fbref.com/en/comps/685/history/Copa-America-Seasons"

)
---