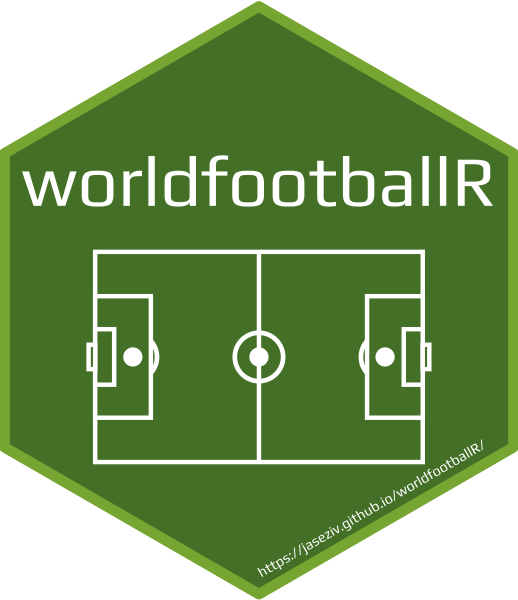 Load Scraped Data Functions
Jason Zivkovic
2023-09-07
Source:
vignettes/load-scraped-data.Rmd
load-scraped-data.Rmd
Overview
This package is designed to allow users to extract various world football results and player statistics from the following popular football (soccer) data sites:
Installation
You can install the CRAN version of worldfootballR with:
You can install the released version of worldfootballR from GitHub with:



# install.packages("devtools")




devtools

::

install_github

(

"JaseZiv/worldfootballR"

)
---
Usage
Package vignettes have been built to help you get started with the package.
This vignette will cover the functions to load scraped data from the worldfootballR_data data repository.
NOTE:
As of version 0.5.2, all FBref functions now come with a user-defined pause between page loads to address their new rate limiting. See this document for more information.
---
Load Understat
The following section demonstrates the different loading functions of Understat data.
Load League Shots
To be able to rapidly load pre-collected chooting locations for whole leagues, the load_understat_league_shots() functions is now available. Supported leagues on Understat are:
"EPL"
"La liga"
"Bundesliga"
"Serie A"
"Ligue 1"
"RFPL"
This is effectively the loading equivalent of the understat_league_season_shots() function, however rather than needing to be scraped a season at a time, this data loads rapidly for all seasons for the selected league since the 2014/15 seasons.



serie_a_shot_locations

 

<-

 load_understat_league_shots

(

league 

=

 

"Serie A"

)




dplyr

::

glimpse

(

serie_a_shot_locations

)




#> Rows: 80,802




#> Columns: 21


#> $ league          

<chr>

 "Serie_A", "Serie_A", "Serie_A", "Serie_A", "Serie_A",…
#> $ id              

<dbl>

 41439, 41444, 41445, 41446, 41451, 41452, 41461, 41462…
#> $ minute          

<dbl>

 2, 5, 7, 8, 19, 24, 76, 76, 0, 3, 3, 3, 5, 10, 15, 15,…
#> $ result          

<chr>

 "MissedShots", "OwnGoal", "SavedShot", "MissedShots", …
#> $ X               

<dbl>

 0.845, 0.009, 0.896, 0.875, 0.813, 0.780, 0.780, 0.867…
#> $ Y               

<dbl>

 0.641, 0.539, 0.373, 0.661, 0.180, 0.374, 0.499, 0.520…
#> $ xG              

<dbl>

 0.009113184, 0.000000000, 0.019183254, 0.042726491, 0.…
#> $ player          

<chr>

 "Maxi López", "Cristiano Biraghi", "Ezequiel Schelotto…
#> $ h_a             

<chr>

 "h", "h", "h", "h", "h", "h", "h", "h", "a", "a", "a",…
#> $ player_id       

<dbl>

 1188, 1164, 3873, 1188, 1336, 3873, 716, 1188, 3848, 1…
#> $ situation       

<chr>

 "OpenPlay", "FromCorner", "OpenPlay", "SetPiece", "Fro…
#> $ season          

<dbl>

 2014, 2014, 2014, 2014, 2014, 2014, 2014, 2014, 2014, …
#> $ shotType        

<chr>

 "Head", "OtherBodyPart", "Head", "RightFoot", "LeftFoo…
#> $ match_id        

<dbl>

 5149, 5149, 5149, 5149, 5149, 5149, 5149, 5149, 5149, …
#> $ home_team       

<chr>

 "Chievo", "Chievo", "Chievo", "Chievo", "Chievo", "Chi…
#> $ away_team       

<chr>

 "Juventus", "Juventus", "Juventus", "Juventus", "Juven…
#> $ home_goals      

<int>

 0, 0, 0, 0, 0, 0, 0, 0, 0, 0, 0, 0, 0, 0, 0, 0, 0, 0, …
#> $ away_goals      

<int>

 1, 1, 1, 1, 1, 1, 1, 1, 1, 1, 1, 1, 1, 1, 1, 1, 1, 1, …
#> $ date            

<chr>

 "2014-08-30 17:00:00", "2014-08-30 17:00:00", "2014-08…
#> $ player_assisted 

<chr>

 "Cristiano Biraghi", NA, "Nicolas Frey", "Ezequiel Sch…
#> $ lastAction      

<chr>

 "Cross", "CrossNotClaimed", "Cross", "Pass", "Pass", "…